Karnal Singh,
Patron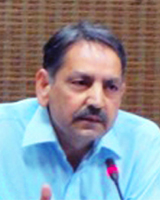 Karnal Singh belongs to the 1979 batch, Electrical (Electronics) Engineering. He did his M Tech in Computer Science from IIT, Kanpur in 1981. Later on he did his LLB from University of Goa and MBA from FMS, Delhi. He was awarded 'The Best Student of DCE'. He also remained 'The Best Sportsman' and 'The Best Athlete' in the college.
He belongs to the 1984 batch of IPS. He bagged the title of 'The Best Sportsman' and 'The Best Athlete' during the IPS training. He has served in Arunachal Pradesh, Mizoram, Goa and Delhi. He was awarded with the 'President's Police medal for meritorious services' and the 'President's Police medal for the distinguished services'. He has contributed immensely in the modernization of the police and is known for his contribution in the field of controlling the terrorism and the crime.
Presently he is posted as Special Director, Enforcement Directorate, Government of India, New Delhi.
This email address is being protected from spambots. You need JavaScript enabled to view it.


+91 88003 78080
+91 11 24690682
Sanjay Diwan,
 President
Sanjay, who graduated in 1981 Electrical (Electronics Engineering), is a seasoned professional with versatile expertise in building profitable and sustainable revenue growth business. Currently, he is Founder & Managing Director, Consulting IN., a boutique management consulting company in the area of business strategy, technology led customer centric experience and digital marketing.
He has worked for globally leading IT & communications companies like Avaya, IMI Mobile, TCS, Unisys and Philips. His experience includes business operations, business transformation, business development, and sales & marketing. He is passionate about customers and believes "every business exists and thrives because of its customers". His additional qualifications include MBA from FMS Delhi and executive programs on leadership and marketing at Indian School of Business (ISB). He is the Past President for ISB CEE alumni Delhi chapter and executive member of FMS alumni association.
This email address is being protected from spambots. You need JavaScript enabled to view it.


+91 98100 69257